Back to Store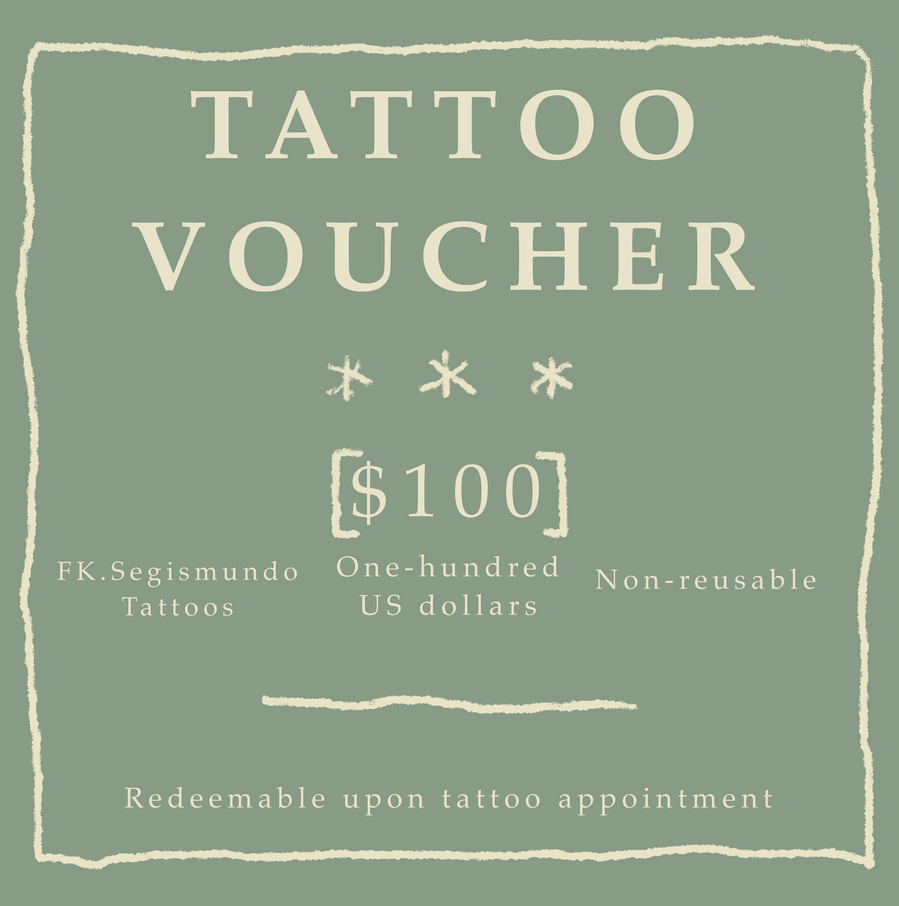 Tattoo Voucher
$100.00 USD
If you want to pre-pay or gift a friend with a tattoo voucher! This is valid for anyone in the world - bare in mind, that I operate from New York City - and if you're based outside of NYC, the voucher can be used when I eventually travel to your residing city. Though it may take some time to get to you, the voucher doesn't have an expiration date and can be used until you get a tattoo from me.
* Each voucher has a value of $100 (USD)
* Voucher is only redeemable towards getting a tattoo from me, Frances (@fksegismundo) - flash or custom
* Voucher can go towards a deposit or towards the remaining balance of your tattoo
* Voucher is non-transferable or reusable
How it works:
Upon purchase, I will generate a unique 6-figure code that will be entered digitally to the voucher - which then a record will be kept of these codes. Vouchers will need this code, a stamp and signature from myself to be valid. When I fill out the voucher, you will be sent an email containing your voucher. Keep this email safe and treat this voucher like real money.
When you're ready to redeem your voucher, simply show email or print the voucher. If you've purchased a voucher alongside physical artworks, I will include a physical printout of it in your package.
You can show your voucher whenever you're ready for a tattoo from Frances - again, it can either go towards the deposit therefore notify Frances with the attached voucher, or you can print it out and bring to your session that can go towards the remaining balance of your tattoo.